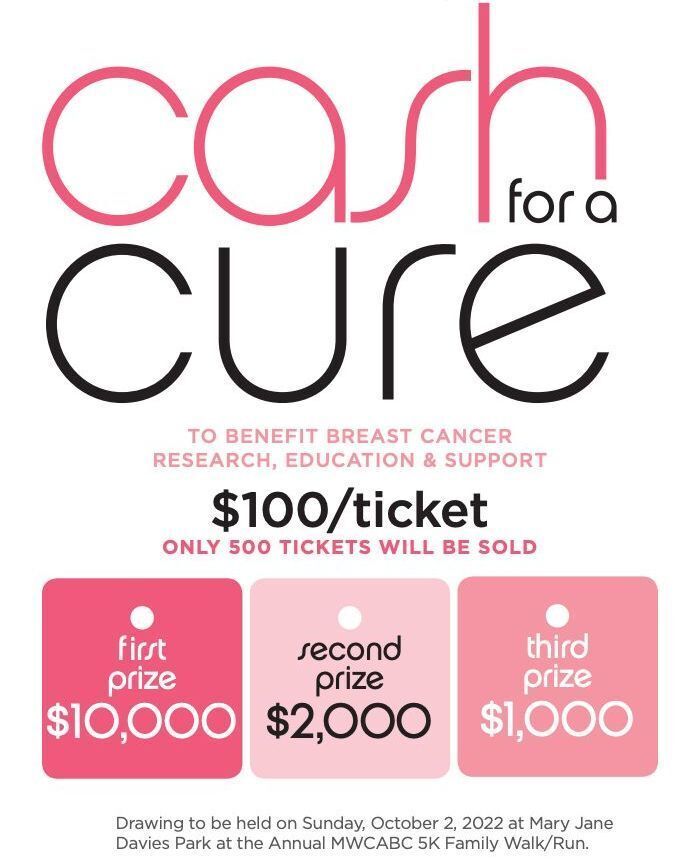 MWCABC CASH FOR A CURE IS BACK!
The Manhasset Women's Coalition Against Breast Cancer (MWCABC) has once again begun its annual Cash for a Cure Raffle.  One lucky winner will walk away with the $10,000 Grand Prize, and additional prizes of $2,000 and $1,000 will be awarded. 
Only 500 tickets will be sold at a price of $100 per ticket.  Rules of this raffle state that no prize money can be donated back to the MWCABC.
Cash for a Cure tickets are now available and committee members are ready to sell you a ticket or answer any questions you may have!

Please reach out to one of the members below. 
Patrice Burke:  email: patricebburke@gmail.com
Alana Brock    email: teutonico13@hotmail.com
Laura Hull      email: laurahull7@gmail.com
The drawing for Cash for a Cure will take place on Sunday, October 2nd at the Gazebo in Mary Jane Davies Green Park Immediately before the start of MWCABC's 5k Family Walk/Run. The run starts at 9:30am.
Your support enables us to help our neighbors who struggle with breast cancer and related diseases and to fund research vital to finding a cure.
WE ARE GRATEFUL FOR YOUR SUPPORT!  THANK YOU!