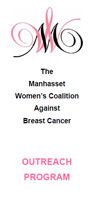 The goal of our Outreach Program is to provide each woman with information and support, as well as relief from some of the day-to-day stresses and pressures of taking care of a family, including herself.
We provide:
Emotional Support
Confidential assistance from survivors
Referrals to supportive programs
Resource Information
Personal Organizational Binder
Reference books
Website
Hope and Healing
Gifts of Hope and Healing
Renewal programs
Wellness retreats
Support Services*
Meal deliveries
Housecleaning
Grocery shopping
Wellness services
Financial assistance
Transportation
* There are geographical and eligibility requirements to be met to benefit from these services. Each case is reviewed and once approved, there is a per-case financial limit for Support Services. Each woman's program will be tailored to meet her needs during treatment and recovery.